MEDIA RELEASE
Metal Expo – 22nd International Industrial Exhibition is one of the most significant and major event in metallurgical industry had been held in Moscow on the territory of VDNKh (Exhibition of Achievements of National Economy) from 8 till 11 November. In this year, the forum was participated by 530 companies including 200 foreign companies from 32 countries of the world which are leading metallurgical companies, pipe and hardware production plants, manufacturers of non-ferrous metal and alloys, construction engineers, machine builders and representatives of the other sectors of industry. For four days of work the exhibition was visited by more than 27 thousand specialists. 13 thousand specialists visited the exhibition during the second day and it was a record number.
Metal Expo 2016 is not only image constituent this is also a perfect opportunity to attract new clients and strengthen relationship with the current clients.
ARBZ LLP traditionally takes part in this exhibition, as the largest domestic manufacturer of long rails. For the company it is an important annual event within the framework of which it is possible to present the plant and output products to consumers, meet partners and discuss the prospects of cooperation.
Each time, participating in the exhibition ARBZ LLP pursues two purposes. The first is the image as the appearance on such event characterizes the company as a steadily growing company, which is important. The second purpose is conducting of business negotiations with stakeholders, including companies involved in the design and manufacture of steel structures, industrial associations and unions, the media, enterprises engaged in production of equipment and technology for the steel industry, etc.
During the exhibition ARBZ LLP stand was visited by over 250 people including managers of leading steel trading companies of near and far abroad countries.
ARBZ LLP stand represented the company's approach to everything including the products. At the plant's stand that brought together sales divisions of the company, representatives of the company had held more than 100 meetings during which they discussed current issues and prospects of cooperation with the key customers.
A range of business meetings has been held during the work with partners and potential customers, agreements have been reached on further cooperation and business relations have been established with customers.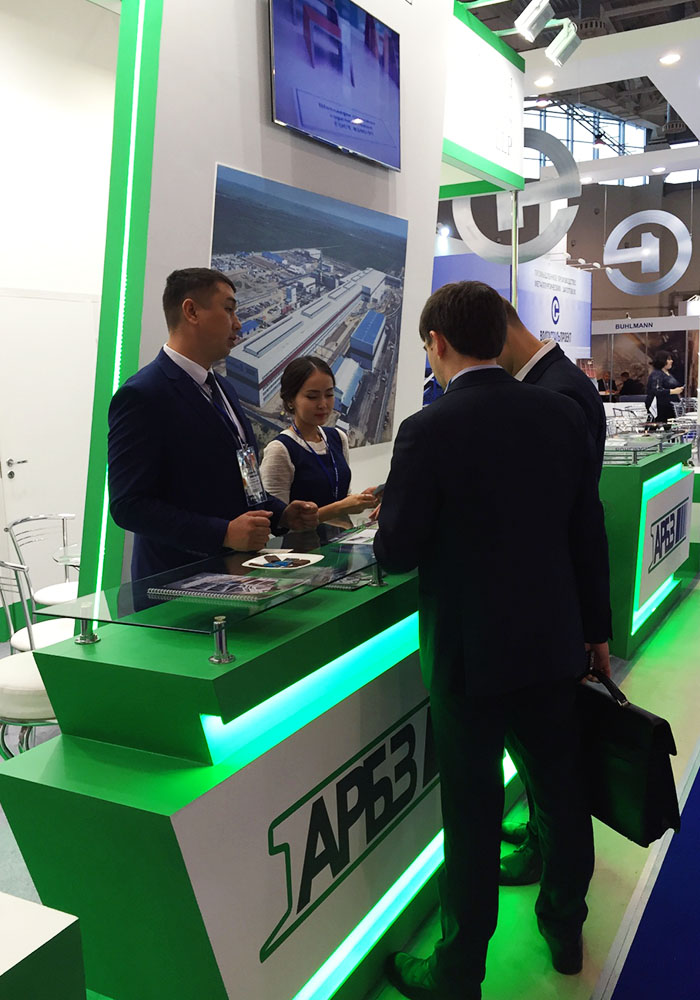 Representatives of industrial enterprises and metal trading companies had raised specific issues regarding plant output products to be delivered to their destination points and raised the existing problems. ARBZ LLP was observing an unprecedented large interest to the plant from consumers, which characterizes increasing of a number of potential partners both at home and abroad and deepening of relationships with the existing customers, an exchange of views both with suppliers and competitors.
Winners of a number of competitions had been awarded under the framework of the exhibition. The company was awarded a diploma by co-chairs of the Organizing Committee of "Metal Expo 2016" for professional organization of products and services promotion.