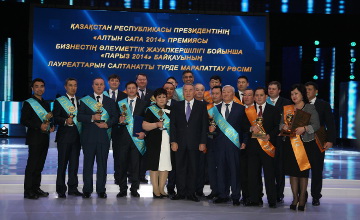 ASTANA. KAZINFORM – the Head of State Nursultan Nazarbayev handed special awards of the competition "Altyn Sapa", Kazinform's correspondent reports.
Today the awards ceremony took place during a nation-wide teleconference bridge in Astana.
The winner of a special award of the President "Altyn Sapa" in the nomination "The best Industrial Project of Year" becomes Aktobe Rail and Section LLP.
"Innovative production of our plant will make the significant contribution to realization of new economic policy "Nurly Zhol" and will become a basis for emergence of the subsequent projects with a high value added", – noted General Director Andrey Kuzmin
In addition, one nomination – "The best production innovations of 2014" – the award was handed to Posuk Titanium LLP in the East Kazakhstan region.
The award founded in 2006 is awarded for contribution to development of domestic production and innovative activity and is urged to stimulate further development of winners. This year 293 companies took place in the competition of the award of the President of Kazakhstan in the field of quality "Altyn Sapa" and the majority of them represent medium business legal entities.